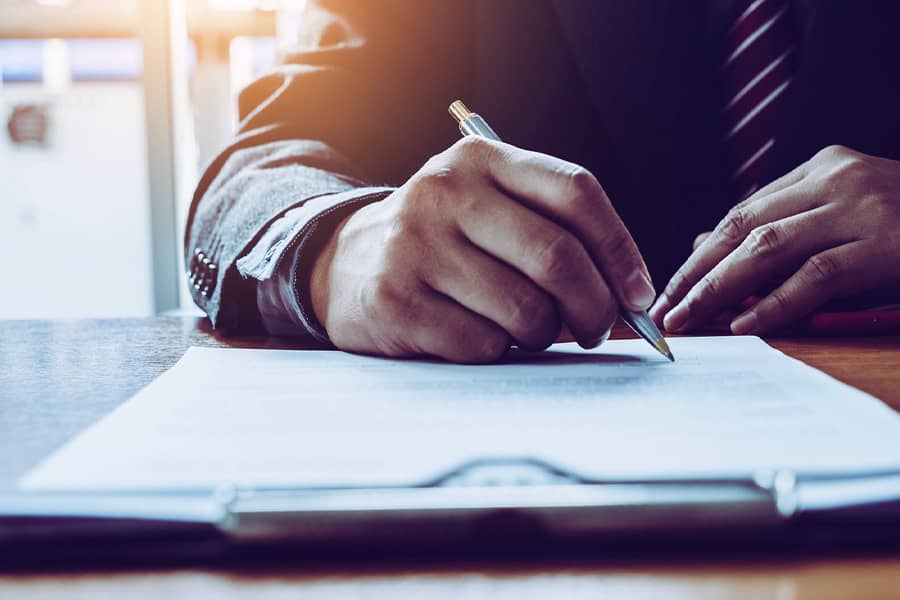 Contract Management & Contract Review
At the onset of any new business relationship, contracts outline terms of agreements between all parties—serving as roadmaps of expectations throughout a project's timeline.
They are essential for outlining important terms and conditions, stipulating rights, and mitigating liabilities. Any discrepancies can put all parties at risk of liability or breach.
Thorough contract management and review processes are therefore necessary to ensure stakeholder needs are met, hold parties accountable to obligations, and minimize risks.
This helpful explainer explores contract management and review processes, considerations for effectively completing both, and why they are instrumental in fostering legal, fair, and safe business connections.
What Is Contract Review?
Clear contract language from the start of a business relationship establishes mutual expectations, how to quantify project success, and risk mitigation priorities.
Contracts should additionally stipulate the anticipated services to be provided, timelines, and other pertinent details—so all involved understand.
Legal and executive representatives conduct the contract review process to verify terms are fair, obligations clearly defined, and final amendments made before approval.
Considerations for Contract Review
Throughout the contract review process, legal professionals and contracted parties might consider the following queries:
Do the terms of this contract accurately reflect the desired agreement and scope of work?
Is the timeline clearly identified and accurate?
Are each parties' obligations clearly defined?
Are all payment dates accurate and verified?
Is there any vagueness or room for interpretation to correct?
Is there a process initiated to address and resolve any disputes that arise?
Thoroughly accounting for these helps ensure the contract meets stakeholder requirements, accurately reflects expectations, and mitigates controllable risks.
Such critical review is only the beginning of a longer—and necessary—contract management process, however.
What Is Contract Management?
Contract management involves overseeing the complete, end-to-end timeline of creating and executing contracts.
After contracts have been created and negotiated, contract management follows their approval, execution, tracking, management, amendments, auditing, and potential renewal.
Within these stages—and within the umbrellas of pre-award, awarded, and post-award phases—contract managers can ensure initial agreements are not only reflective of desired outcomes, but that parties meet contractual obligations.
Let's examine each in more detail.
Stages of Contract Management
Pre-Award
Creation: This involves drafting contracts and ensuring all terms meet the needs and expectations of stakeholders. Instead of manually creating these comprehensive documents with each new partnership, utilizing a blueprint and contract management system streamlines this.
Negotiation: This phase highlights areas to be changed before signing.
Awarded
Approval & Execution: When all parties are satisfied with any outlined terms, they can approve and sign contracts. To streamline this, businesses might consider utilizing electronic signatures or real-time software.
Tracking & Management: Throughout the remainder of the contract, diligent tracking ensures all parties fulfill obligations, maintain compliance, and that all forms such as certificates of insurance are valid and tracked. However, manually managing documents, deadlines, and compliance requires substantial time and effort. Rather than dedicating hours to this each week, organizations should consider automating processes with real-time tracking solutions

that automatically highlight discrepancies for an easy return to compliance.
Post-Award
Amendments: To amend a contract that has already been approved, parties must ensure contracts enable revisions. If so, changes can be reflected in the updated contract—leaving the original agreement largely intact

.

Auditing: To ensure each party is holding up their end of the agreement, thorough auditing measures report the status of all stakeholders and any potential issues or breaches utilizing a set framework.
Renewal: Parties might choose to renew the contract and continue business dealings together. If so, the contract management process largely repeats itself—save for its initial creation, unless parties desire any significant changes.
By managing each of these crucial steps, businesses can ensure projects are contracted fairly, mitigate risks, and build safer third-party relationships.
The Difference Between Contract Review & Contract Management
Contract review is one of the first steps in thorough contract management, ensuring the terms meet stakeholder needs and expectations.
However, after parties sign the contract, diligent management is required to ensure all parties hold up their end of the bargain, remain compliant, and fulfill terms through the contract's full timeline.
Think of contract review as high-level proofreading, and contract management as the entire lifespan of a contract.
Why Are Contract Review & Management Important?
Contract review and management are essential in building safe business connections and ensuring terms are aligned with stakeholder requirements.
Meeting Stakeholder Needs
Ultimately, business partnerships exist to fulfill a specific purpose which, ideally, should be beneficial to all parties. Contract review and management helps ensure this.
Minimizing Gray Areas
Reviewing contracts thoroughly before signing helps highlight terms that are too vague or open to interpretation, so they can be edited for clarity. When stakeholders are given specific obligations to fulfill, this minimizes misunderstandings and confusion.
Mitigating Risks
By thoroughly auditing vendors during all stages, businesses can mitigate noncompliance, breach of contract, and other negligence that puts all at risk.
Holding Parties Accountable
Ensuring contract terms reflect desired outcomes helps set expectations and ensure accountability for achieving them.
Simplify Contract Management & Review Processes With bcs
End-to-end, comprehensive contract review and management is one of the most proactive measures businesses can take to ensure contracts encompass the expectations, obligations, and business partnerships of all parties involved, while simultaneously minimizing risk.
With the many edits, negotiations, and tracking involved in contract review and management, however, organizing and storing information safely and easily can be a hassle.
bcs' full-service solution streamlines these processes by facilitating easy communication, document storage, progress tracking, and more.
Auto correction returns wayward vendors back to compliance with a few clicks, and mitigates liabilities and other risks—all the while streamlining communications, organizing pertinent documents, and monitoring updates in real time.
Managing crucial contract review and management processes has never been easier—with automated systems that create safer connections and greater accountability, and far exceed business goals.
bcs is a leading vendor management solution providing full- and self-service tracking options to meet your unique needs. To optimize your contract review and management processes today, contact us or schedule a demo.
Subscribe Now
Learn from the pros about risk-mitigation, document tracking, and more, with expert articles from bcs.