General Liability
While third-party partnerships are essential for any project, they also carry inherent risks—making it important for all parties involved to have active liability policies in place.
What is Commercial General Liability?
Commercial general liability (CGL) insurance protects a business if it gets sued; this insurance can cover claims for both bodily injury and property damage. In other words, commercial general liability protects your businesses in the event of a lawsuit. Also known as CGL insurance, liability insurance, or general liability insurance, this type of coverage is the first line of defense in the event of a loss. In fact, is the broadest in types of incidents it protects a company against.
What does CGL insurance cover?
As one of the broadest types of insurance, it covers:
Bodily Injury & Property Damage
Advertising & Personal Injury
Medical Payments Coverage
General Liability Examples:
For example, say a hotel chain hires a contractor to install a pool in one of its locations. One of the subcontractors leaves equipment out, and a hotel staff member trips and falls—spraining her ankle, and breaking a window while trying to catch herself. (Ouch.)
While CGL won't cover her injury, it will cover any lawsuits she might place on the contractor, as a result.
If those in the previous example wanted to extend their coverage to include property damage (the broken window), they might add property liability insurance to the CGL policy—covering charges for damages you're legally responsible for.
Personalizing your CGL policy to your unique needs as much as possible helps mitigate risks and ensure continuous coverage.
Policy Limits
CGL policies also contain limits for how much the insurer will cover for specific events.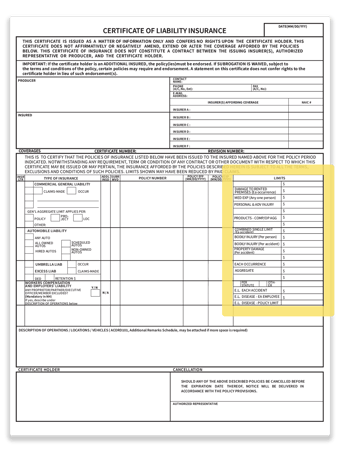 These include:
Each Occurrence: Total an insurer will pay each time a claim occurs
Damaged to Rented Premises: Funds available if policyholder damages the space they are renting
Medical Expense Limits: Amounts paid for reasonable medical injury caused by an accident, applying separately to each injured person
Personal & Advertising Injury: Covers false arrest, detention, and imprisonment, and advertising injuries such as slander, libel, and invasion of privacy
General Aggregate: Total amount a policy is obligated to pay in a single term. It can respond in three ways: per policy, per project, and per location.

Per Policy: The maximum amount an insurer will pay for the total of all claims covered by an insurance policy
Per Project: Limits applying to each project of the policyholder (commonly used by owners of buildings and retail stores)
Per Location: Limits applying to each location of the policyholder (commonly used by companies and contractors doing project work, such as in construction trades)

Products-Completed Operations: Protects business against claims of injury or property damage occurring after work has been completed, resulting from a product made or sold by your company
CGL Coverage Types
Within CGL insurance, there are two main types of coverage: occurrence and claims-made.
Occurrence: Protects a business from any covered incident during the policy period, regardless of when the claim is reported.
Claims-Made: Covers claims that occur and are reported within the policy period.
How to Renew Your CGL Insurance
Gather all pertinent information (such as payroll costs, certificates of insurance, and address changes).
Perform a risk assessment.
Assess previous renewals.
Compare rates and policies from your insurer and others.
Renew your current policy or purchase a new one.
You'll want to begin this process two to three months before the policy expires. Wait any longer, and you may be subject to accepting more expensive, inadequate coverage to prevent gaps.
Auto Liability
What Is Auto Liability Insurance?
Auto liability insurance protects policyholders against claims in which third parties suffered bodily injury or property damage due to an auto accident on company property or with a company vehicle.
Similar to CGL coverage, auto liability covers:
Bodily Injury: Medical payments, lost wages, and any resulting lawsuits
Property Damage: Damage to physical property, such as vehicle replacement and repair, and fences, poles, buildings, and other structures damaged in the accident
Not all auto liability policies ensure complete coverage. Commercial automobile policies specify which scenarios of vehicle usage are covered with "coverage auto symbols" representing the type of vehicle or ownership status protected by the policy.
Auto insurance symbols include:
"Any Auto"
"Scheduled Autos"
"Hired Autos"
"Non-Owned Autos"
The "any auto" symbol is the most ideal, as it means any vehicle the vendor is driving will be covered.
If you're hiring third parties that use a vehicle to drive onto your site, you should require auto liability coverage, even if the vehicle is not required for your project.
If you own a vehicle, auto liability insurance is required in all states. While coverage types and amounts vary, all states require bodily injury and property damage coverage.
Umbrella Insurance & Excess Insurance
While umbrella and excess insurance both increase insurance policy limits, there are several key differences between the two.
What Is Excess Insurance?
Excess insurance does not expand policy terms, but covers higher financial limits in case of unforeseen, catastrophic claims or loss.
What Is Umbrella Insurance?
Umbrella insurance is a form of excess insurance. It does expand the policy terms, and also provides broader coverage to encompass losses not outlined in the policy.
Liabilities exceeding the policy scope become the policyholder's responsibility, not the insurer. So, excess and umbrella insurance kick in when we've exhausted a commercial general liability, auto liability, or any other policy it sits on top of.
For instance, if Terrence Traveler is visiting another country, his umbrella policy may cover auto liability in that area, even if his commercial auto policy doesn't include coverage for these territories.
However, if he gets into an accident using a rental car while traveling, and tries to add excess or umbrella insurance after the fact, it may not be covered.
The best way to ensure continuous coverage is to purchase these insurance addendums with your car insurance.
Workers' Compensation & Employers' Liability
Workers' compensation, or workman's comp, pays for expenses resulting from workplace injuries, including medical care, lost wages, and rehabilitation. If a worker dies from the injury, it may also cover their funeral expenses.
Workers' comp doesn't cover claims of:
Gross Negligence
Discrimination
Malicious Intent
Wrongful Termination
Failure to Promote
Intentional Injury
Emotional Injury
Injuries From Fights Caused by Employees
Injuries Occurring During Commute or Intoxication
Let's consider an example:
If a contracted painter falls off a ladder and breaks an arm, workers' compensation would potentially pay for their medical bills, paid leave, and other rehabilitative costs.
In this same example, if the painter was using a ladder provided by the business owner and decided to sue them, workers' comp may also cover the painter's legal expenses.
But what about the business owner?
This is where employers' liability insurance comes in.
It's an employer's legal responsibility to pay for damages resulting from work-related injury for full-time employees. However, some exemptions apply for:
Casual Workers
Employees Working on Commission
Family Members
Part-Time Workers
Farmhands
Real Estate Agents
Insurance Agents
Business Owners
In the United States, most states are required to provide some form of workers' compensation, and employers are responsible to pay premiums.
So, employers' liability insurance helps offset these costs by covering lawsuits that may result from an employee injury or illness.
The difference between these two policies is: workers' comp covers employees, whereas employers' liability covers employers.
Other Liability Insurance Policies
Professional Liability Insurance
What Is Professional Liability Insurance?
Whereas general liability insurance covers instances of non-professional negligence, professional liability insurance deals with those of professional negligence.
General liability insurance covers physical risks such as bodily injury and property damage, while professional liability protects your business if you provide a service that leads to financial damage or legal liability.
Also referred to as "errors and omissions (E & O) insurance," professional liability insurance is more focused on errors or omissions related to clients during business operations, which lead to an insurable incident.
What Does Professional Liability Insurance Cover?
Professional liability insurance usually covers:
Libel
Slander
Misrepresentation
Negligence
Inaccurate Advice
Contractors Pollution Liability
Contractors pollution liability (CPL) protects contractors from pollution-related risks after an accident involving toxic materials.
While each policy will specify what it considers a "pollutant," these usually include liquid, solid, or gaseous contaminants, or irritants that may include fumes, smoke, vapor, waste, chemicals, mold, bacteria, and asbestos.
Pollution liability protections were once included under CGL policies, but when separate policies emerged in the 1980s, contractors had to start purchasing CPL separately to protect against environmental risks.
Most CPL policies cover:
Cleanup
Bodily Injury
Property Damage
Legal Defense Costs
Cyber Liability Insurance
What Is Cyber Liability Insurance?
Cyber liability insurance covers your company's liability in the event of cybersecurity breaches involving sensitive information, such as Social Security numbers, credit card numbers, and account information, among others.
What Does Cyber Liability Insurance Cover?
Cyber liability insurance usually covers costs associated with:
Notifying Customers About a Data Breach
Restoring Personal Identities of Affected Customers
Recovering Compromised Data
Do I Need Cyber Liability Insurance?
As cyberattacks jeopardize not only security information, but consumer trust, as well, investing in this proactive measure is beneficial for many businesses.
You might need cyber insurance if you:
Store Data on Computers or Cloud Systems
Provide Software or Hardware to Clients
Use Point-of-Sale Systems
Store Customer/Patient Data, Including Medical & Credit Card Data
Riggers Liability
Riggers liability covers a contractor's liability from moving others' property or equipment, while under the care of a rigging contractor.
For example, let's say a rigging contractor was moving a piece of equipment with a crane, but dropped and damaged the equipment due to improper rigging. The contractor's riggers liability insurance would kick in to cover the costs of the damaged equipment itself.
Garage Liability Insurance
Garage liability insurance insures bodily injury or property damage to a vehicle while under the care of the insured business.
Automotive dealerships, repair shops, parking garages, tow-truck operators, service stations, and others in the automotive industry often purchase this type of umbrella insurance as an addition to their business liability coverage.
If a parking garage wall collapses, for instance, the property manager's garage liability insurance will cover any bodily injury or property damages to vehicles in the vicinity.
Business Interruption Insurance
Business interruption insurance financially protects businesses in the event of unexpected disruptions or closure.
It can cover:
Lost Income
Expenses Incurred Due to Interruption
Events Such as Natural Disasters, Fire or Flood Damage, Power Outages & Cyberattacks
Expenses Related to Restoring Operations or Relocation
As even a brief interruption could result in significant losses, this coverage is essential for any business.
Property Insurance
What Is Property Insurance?
Property insurance protects you financially if your property is damaged or destroyed.
These policies typically cover a range of properties, including homes, businesses, and personal belongings. However, they're not all created equal and can vary depending on the policy and the specific coverage you choose. While some policies may insure specific perils (such as fire, theft, or storm damage), others may provide more comprehensive coverage.
Types of Property Insurance
There are multiple types of property insurance, including:
Residential Property Insurance
Personal Property Insurance
Residential Property Insurance is a form of coverage that aims to protect homeowners from financial loss due to damage or destruction of their residences. This type of insurance is designed to cover losses from events such as fires, thefts, or natural disasters. This property coverage can be helpful for individuals who have invested a significant amount of money in their homes and want to make sure they are protected in the event of an unexpected incident. Examples of property insurance include renters, flood insurance, and homeowners.
Personal property insurance is a type of insurance that provides protection for your personal belongings. Typically, this coverage can include possessions like furniture, appliances, clothing, and other valuable items. It is important to understand the specific scope of personal property coverage in order to ensure that you are adequately protected. This coverage can be tailored to fit individual needs and should be reviewed regularly to ensure that your coverage is up-to-date and reflects any changes in your property or belongings.
Commercial Property Insurance
What Is Commercial Property Insurance?
Commonly referred to as business hazard insurance, commercial property insurance is a type of property insurance providing coverage to business owners for their buildings, furniture, inventory, and equipment if it's damaged or lost from fire, theft, or another covered event.
While professional liability insurance covers legal costs for damages you're responsible for, commercial property coverage refunds the damaged assets themselves.
It also covers assets and inventory that may be crucial to operations—making it a must-have for any commercial property owner. If you rent a commercial space, most landlords also require tenants to carry it as part of the lease agreement.
Commercial property coverage can also be extended to include business interruption insurance and liability coverage, which protects your business against third-party claims for bodily injury or property damage.
Understanding what commercial property coverage entails is crucial for any business owner looking to protect their assets and avoid financial losses in the event of an unexpected disaster.
Commercial property insurance typically covers:
Your Building
Your Business' Personal Property
Personal Property of Others
This coverage can be provided through a stand-alone policy or included as part of a package policy that offers multiple types of coverage. Including:
Commercial property insurance usually doesn't cover damage from floods, earthquakes, war and military action, intentional damage, typical wear and tear, terrorism, and nuclear hazard, however.
Evidence of Property Coverage
Appropriately dubbed evidence of property coverage,the ACORD 28 and 27 forms prove your property is covered and protected under an insurance policy.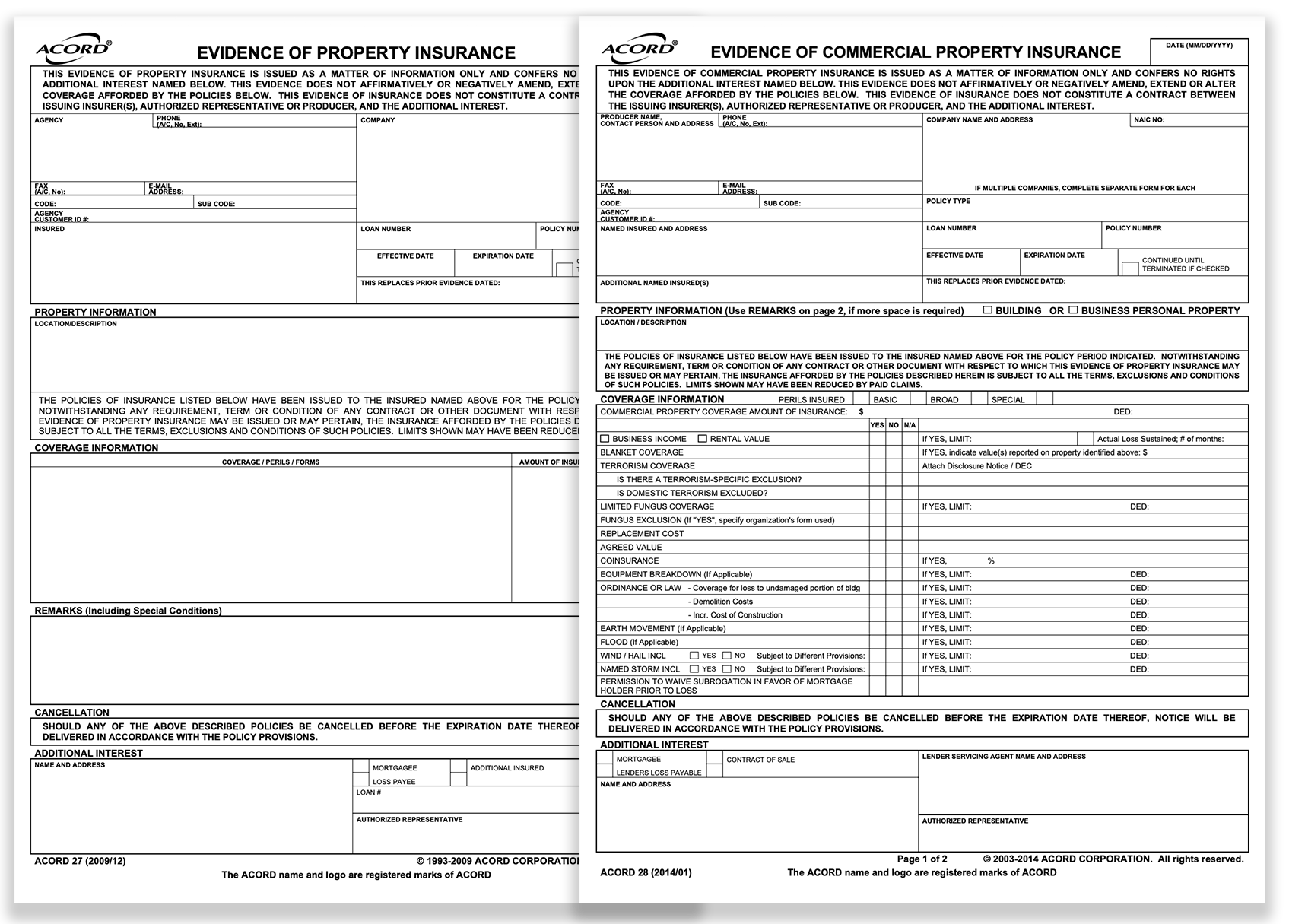 These standardized forms prove to be useful when interacting with parties who have a direct interest in the insured property, thereby serving as a critical component in the property insurance processes.
Causes of Loss Forms
Causes of loss forms define the causes of loss, or perils, covered by an insurance policy.
These can be combined with one or more coverage forms, such as the commercial property conditions form, common policy conditions form, and declarations, to make up a commercial property policy.
There are three main causes of loss forms:
Basic Causes (CP 10 10): Covers the least amount of causes, including fire, lightning, explosion, smoke, windstorm, hail, riot, civil commotion, aircraft, vehicles, vandalism, sprinkler leakage, sinkhole collapse, and volcanic action.
Broad Causes (CP 10 20): Includes everything covered in Basic Causes, as well as weight of snow, ice, or sleet; water damage (leaking from appliances); and collapse from specified causes.
Special Causes (CP 10 30): Covers everything, except causes specifically excluded. Exclusions are usually related to ordinance or law insurance, earthquakes, and floods.
Business Owners' Policies (BOP)
In contrast with CGL, which only covers liability losses, business owners' policies (BOP) insure liability and property losses.
Whereas CGL handles claims for bodily injury, property damage, and personal injury, BOP goes beyond this to also cover damages to the building and business personal property.
BOP bundles essential coverages from business liability, commercial property, and business interruption insurance, among others, to provide comprehensive protection for small and mid-sized businesses. It can also include other endorsements to address needs related to business agreements such as leases, mortgages and service contracts.
Although many business owners face similar risks, no two businesses are created equal. So, it's a good idea to customize your BOP to meet your specific needs.
You might choose to add additional coverage options, including:
Inland Marine Insurance
What Is Inland Marine Insurance?
Inland marine and cargo insurance are both types of property insurance covering goods, materials, and other items in transit. While they have similar elements, there are some key differences between the two.
What Does Inland Marine Insurance?
Inland marine insurance typically covers property while transported via land or waterways. It may be purchased as an add-on to an existing business insurance policy or as a separate policy.
Inland marine coverage can repair or replace items if damaged by fire, wind, theft, water damage, and hail.
If a shipping vessel encounters a storm and its load is tossed into the sea, for example, inland marine insurance may cover the costs of the lost shipments.
Cargo Insurance
Cargo insurance is a form of transport insurance that protects goods while in transit.
It is especially beneficial to independent truckers, who are responsible for their cargo during transport and may not have access to traditional corporate protection.
For example, if a truck carrying packages of merchandise is broken into, and some of the packages are stolen or damaged, the policyholder's cargo insurance would cover costs of the damage.
Commercial Packet Policies
While BOP is tailored to small and mid-sized businesses, commercial packet policies (CPPs) are designed for middle and large companies and some specialized small businesses.
They typically provide higher limits of protection with broad coverage for multiple perils in one policy. Unlike BOPs, CPPs are not pre-packaged—providing greater flexibility for businesses to customize coverage to their specific needs.
These are usually the best option for organizations with more complex operations that require additional protection from associated risks.
Plate Glass Insurance
Plate glass insurance covers damages to large panes of plate glass on your company's site.
Whether in front of a gym or storefront, commercial plate glass is expensive, more challenging to install than conventional glass, and often requires costly repairs.
Standard plate glass insurance usually replaces or repairs glass that's accidentally broken, but may exclude coverage if glass is damaged in a fire or improperly installed.
Insurance Endorsements
Insurance endorsements, also referred to as "riders," are additional documents that modify an existing policy.
They can add or limit coverage not otherwise specified, and provide a more detailed explanation of certain elements within the policy such as coverage, deductible amounts, or excluded items.
For example, if you wanted to add coverage for floods or earthquakes to a homeowner's insurance policy, you would need an endorsement outlining those areas of coverage.
While a handful are standardized, many endorsements are drafted to meet the specific concerns and underwriting needs of an insurer—creating important differences regarding who is covered, when, and to what extent.
There are also different versions of insurance endorsements, including:
Standard Endorsements: Modify names, addresses, coverage, and other aspects insureds commonly change about their policy, using a template provided by the insurer

Non-Standard Endorsements

: Typically involve insurers making changes to the template or drafting new documents
Mandatory Endorsements: Refer to those required by law, such as flood insurance in a flood zone
Voluntary Endorsements: Not required by law. Most endorsements fall under this category, such as earthquake insurance.
For instance, if a subcontractor is hired to lay tile in a kitchen remodel, they can designate a general contractor they're working for as an additional insured in their insurance policy. This ensures if the subcontractor runs into any work-related lawsuits, the general contractor can protect itself under the subcontractor's policy.
In the previous example, we mentioned the term "additional insured." This is one of a few most commonly requested insurance endorsements, along with primary and non-contributory endorsements.
Let's review both in more detail.
Endorsement Form Anatomy
Reading and identifying different endorsement forms can be confusing. While there are a lot of standardized endorsements forms, there are also insurance endorsements written to meet specific concerns and underwriting needs for different companies and projects. It is important to familiarize yourself with these different types of forms so you know who is covered, how and when they are covered, and the conditions by which coverage is to be provided. For example, there are many different additional insured endorsement forms.
The different versions of insurance endorsements, include:
Standard Endorsements: Modify names, addresses, coverage, and other aspects insureds commonly change about their policy, using a template provided by the insurer
Non-Standard Endorsements: Typically involve insurers making changes to the template or drafting new documents
Mandatory Endorsements: Refer to those required by law, such as flood insurance in a flood zone
Voluntary Endorsements: Not required by law. Most endorsements fall under this category, such as earthquake insurance.
ISO Standardized Endorsement Forms
An ISO form is a type of insurance policy endorsement written by the Insurance Services Office (ISO) that is so commonly used it has become an industry standard.The beauty of this type of standardization is the ability to quickly recognize which endorsement you are dealing with.
Let's take a closer look at the different aspects of a standard additional insured form, the Insurance Services Office (ISO) Scheduled Person or Organization (CG 20 10).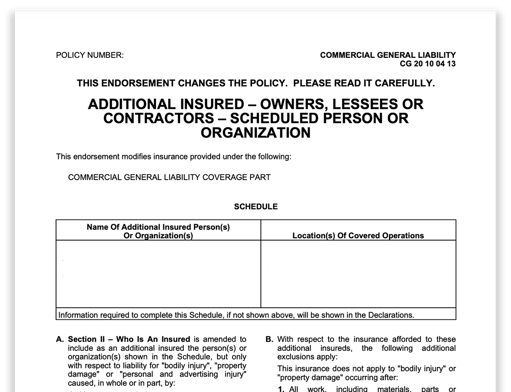 Number of the Policy Being Endorsed: This must match the policy number listed on the COI.
Endorsement Number: Each endorsement number indicates its identifying information. The first two digits denote policy type, while the next four digits delineate both the endorsement category within the coverage type and the specific endorsement.
Let's continue using our CG 20 10 04 13 endorsement as an example:
i."CG" identifies the endorsement as commercial general liability.
ii.The first number, "20," signifies the category is additionally insured.
iii.The second number, "10," means it is for scheduled ongoing operations.
iv.The last four digits refer to the month and year it was put into use. "04 13" indicates this document was implemented in April 2013.
Additional Insureds
What Are Additional Insureds?
Additional insureds are people or entities coverage has been extended to in the event of a claim or negligent acts. Additional insureds usually have some degree of liability because of their relationship to the named insured.
However, they are not responsible for paying premiums, receiving notices of cancellation, or negotiating policy terms.
For example, let's say a bakery hires a general contractor to install a new roof, and has its contractors list it as an additional insured. During construction, debris falls and injures a bakery employee. Out of work for six weeks, they sue the contractor, who, named as an additional insured, is covered by the subcontractor's policy.
Claiming additional insured status presents several benefits to organizations, including the following:
Responsibility: It places financial responsibility for a claim on the entity most likely to cause it.
Loss History: It helps parties protect their loss history. If a claim occurs that's the responsibility of a vendor, the additional insured wouldn't have to assert the claim under its own policy—keeping its loss history low.
Risk Mitigation: It holds entities responsible for potential risks.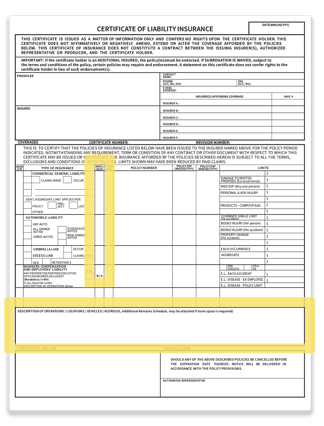 On an ACORD 25 certificate of insurance (COI) form, additional insured endorsements can be found in two places:
The slim column labeled
"ADDL INSD"
The "Description of Operations" section at the bottom, providing a more detailed listing
To add an additional insured to a policy, contact your insurance provider to add their name and address.
Blanket Additional Insured Endorsements
If there are multiple third parties a business wishes to extend additional insured coverage to, they might use a blanket additional insured endorsement.
As the name suggests, blanket additional insured endorsements extend insurance coverage to multiple parties, without having to request additional insured status for each.
This option has some pros and cons:
Pros:
Convenience: Blanket endorsements cover your bases, so to speak, without having to tediously request additional insured status for everyone.
Reduces Coverage Gaps: Businesses might work with hundreds of vendors at a time, and missing vendor documents or inaccurate information may leave them without the coverage they need. Blanket endorsements reduce the likelihood of these mistakes—bypassing traditional steps to ensure all have coverage.
Cons:
Ambiguous Language: Shared language about blanket endorsements haven't been tested in court, creating some ambiguity around these documents.
Completed Operations: Blanket endorsements also lack coverage for completed operations, which creates significant gaps for many projects.
Notices of Cancellation: Securing notices of cancellation helps businesses limit risks, but doing so requires additional insureds to be listed on the policy. Blanket endorsements make this more challenging, as named insureds aren't required to list additional insureds on them.
Contracts Required: Blanket endorsement terms will usually depend on each policy. However, as most require a signed contract between two parties, it's a good idea to keep these documents on hand to confirm additional insured status in a claim.
Ongoing vs. Completed Operations
Ongoing and completed operations coverage refers to how and when contractors can extend coverage for additional insureds.
Ongoing operations endorsements provide coverage for jobs that are still in progress, or ongoing.
Completed operations, however, come into effect after the work's been finished.
Let's take a look at an example.
An office space is having some plumbing work done, and the contractor leaves his ladder in the hallway. An office employee walks into it, stumbles, and sprains her wrist.
This is an example of bodily injury occurring during ongoing operations, while the contractor is working at the office space. But what happens if one of the pipes bursts weeks down the line because of a mistake the contractor made, and someone is injured then?
If the contractor had listed the office space as an additional insured for completed operations, they may have coverage under the contractor's policy.
Common Additional Insured Endorsements
Not all additional insured endorsements are created equal.
Let's review some of the most common of these, or Additional Insured-Owners, Lessees or Contractors endorsements:
Scheduled Person or Organization (CG 20 10): This endorsement covers contractor liability for bodily injury, property damage, or personal and advertising injury that occurs during ongoing operations only. It only provides coverage for claims filed while a job is still in progress, or ongoing.
Completed Operations (CG 20 37): As the name suggests, this covers claims occurring after the work's already been finished, or completed operations.
Automatic Status When Required in Construction Agreement With You (CG 20 33): This blanket endorsement is commonly used in the construction industry, covering parties you've agreed with in writing should be listed as an additional insured under your policy. Their additional insured status ends when you've completed operations for them.
Automatic Status For Other Parties When Required in Written Construction Agreement (CG 20 38): Also commonly used in construction, this blanket endorsement covers upstream parties—those above the level a party is contracting—along with anyone else you're contractually required to add.
Primary & Non-Contributory Endorsements
When multiple additional insureds are listed under an insurance policy, it can be difficult to know who should contribute to a claim first, and how much.
Primary and non-contributory endorsements clarify these questions.
Primary endorsements specify the first party responsible for responding to a claim, before another party's policy applies.
Non-contributory endorsements prevent insurers from seeking contribution from other policies to cover the costs of a claim, and specify whether and which parties should contribute if a claim exceeds coverage limits.
For instance, let's say a museum hires a contractor to remodel its exterior. However, one subcontractor doesn't properly secure the masonry stones, and some debris falls and injures a passerby's foot. He sues the museum, contractor, and subcontractor.
When the museum receives the claim, it passes it along to the contractor, who tenders it to the subcontractor. The subcontractor's insurance responds first, and without seeking contribution from the policies of the museum or contractor. If the subcontractor's limits are exhausted, the museum's and contractor's policies will respond within the terms of the contract requirements.
While this may seem similar to a waiver of subrogation, it's fairly different. A waiver of subrogation prevents insurers from seeking contribution from negligent third parties to recoup amounts already paid toward a claim.
Waivers of Subrogation
Before we dive into waivers of subrogation, let's first understand what subrogation is.
When an insurance company covers a claim, they have a legal right to pursue the party responsible to recoup costs—a right known as subrogation.
So, a waiver of subrogationwaives this right, meaning the insurer is prevented from pursuing a negligent party to recoup amounts paid toward a claim.
Let's say Charlie Customer is shopping for a birthday gift in a local business, within a larger plaza. When he walks into the store, he doesn't notice the carpet is torn, and trips and breaks a leg. This keeps him out of work for three months, so Charlie takes legal action against the shop, whose CGL policy compensates him.
The plaza's property manager was responsible for replacing the rug, but the shop had just signed a new lease that included a waiver of subrogation favoring the property manager. So, when Charlie's insurance moves to collect payments from the property manager, it's blocked by the waiver of subrogation.
Waivers of subrogation exist to contain financial losses to a specific party's insurance policy. They protect third parties financially, help preserve business relationships, and avoid the need for lawsuits.
However, they also typically make insurance premiums more expensive, and it's also important to read contracts thoroughly as to not accidentally breach it by neglecting any waiver-prohibiting language.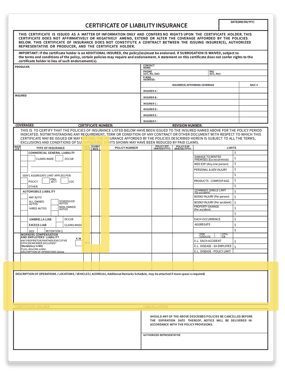 Waivers of subrogation can be found on a certificate of insurance (COI) in two areas:
The "SUBR WVD" Column
The "Description of Operations/Locations/ Vehicles"
How Waivers of Subrogation Help
While COIs prove valid insurance coverage, they don't contain all the details of the policy. This means those interested in partnering with a vendor might not have a complete understanding of its coverage or any applicable exclusions.
Waivers of subrogation provide another level of protection. Without it, there may be gray areas in the event of a claim.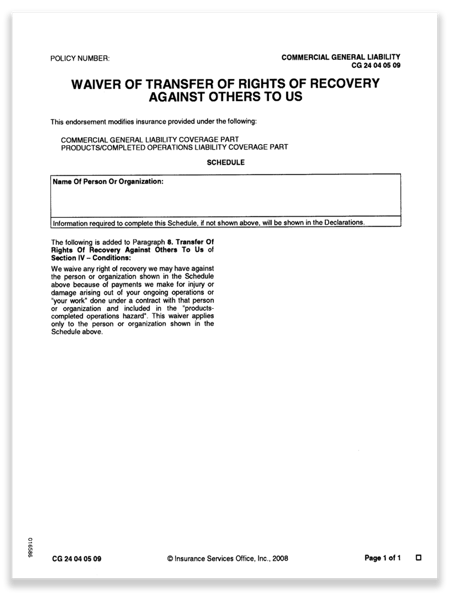 Notices of Cancellation
Have you ever gone out with someone, and they suddenly stop responding to you without any warning? Well, so-called "ghosting" can happen in the insurance world, too.
If vendors you are working with cancel their insurance policies and decide not to renew, this can leave your company exposed to risk. So, it's important to obtain a notice of cancellation (NOC) from them notifying when vendors cancel their insurance policy or decide not to renew it.
Most policies come with a NOC, which can traditionally be found in the lower right corner of a COI.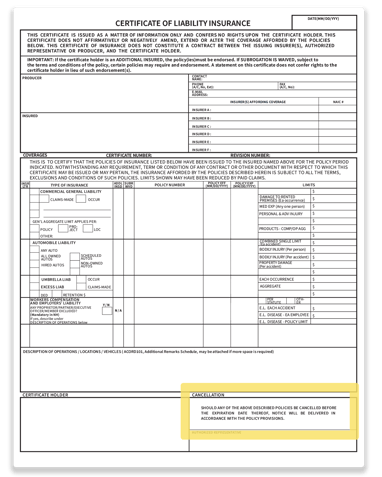 These endorsements also outline the amount of time you have to cancel a policy without incurring penalties or fees. It's important to be aware of this cancellation period, which varies depending on the policy but is usually 30 or 60 days. Keep track of these time frames and make any necessary changes to your insurance within them.
While they're essential for mitigating risk, notices of cancellation are not always guaranteed—potentially leaving parties unaware of pending cancellation.
Make it a priority to collect these endorsements from contractors by:
Verifying relevant parties are included on the endorsement form, along with an address where the NOC should be mailed.
Ensuring your insurance requirements include specific language requiring the vendor's insurer to provide a NOC, non-renewal, or non-payment of premium.
Including language that the vendor should give you a copy of the NOC providing the required notice.
Obtaining a copy of the NOC to ensure its language provides the desired notice.