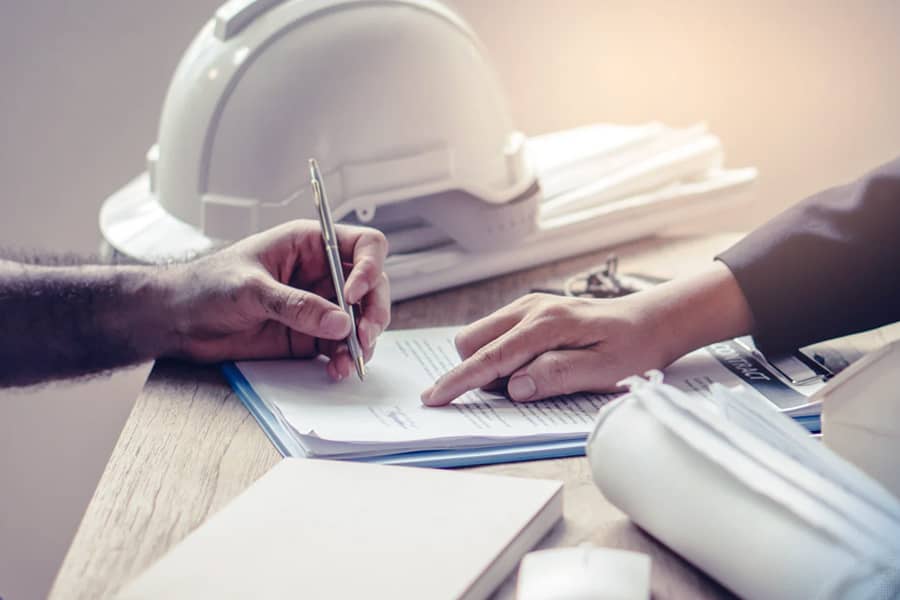 What Is General Contractor Insurance?
When businesses collaborate with contractors on a project, it can be a fruitful experience for all involved—but also carries inherent risks.
If contractors injure themselves, damage property, or fall under litigation claims on the job, it's crucial they have an active general contractor insurance policy to cover the associated costs.
These are usually unique for everyone, and combine general liability, inland marine, and other coverages to build safe partnerships and fulfill compliance requirements.
To help you network safely and stay compliant, this explainer dives into everything you need to know regarding this insurance, policy and coverage types, and so much more.
What Is General Contractor Insurance?
General contractor insurance covers the costs of injuries, damages, and litigation that impact construction workers, carpenters, plumbers, and others hired for a project.
While specific requirements vary by region, a general rule of thumb is: Contractors need multiple business insurance policies to mitigate risks, but many can be bundled by the insurer.
In the event of an accident, these policies ensure loss transfer is the responsibility of the insurance company, rather than the party in question.
Who Does General Contractor Insurance Cover?
If an employee is injured on site, damages property, or has their equipment stolen, the policy reimburses costs to the extent specified in the contract.
Your business size and local jurisdictions determine whether you need to have multiple, or all of the following policies:
General Liability
This covers costs of on-the-job property damages or personal injuries.
Example: If someone is injured on a job site, the general liability insurance policy pays resulting medical expenses.
Inland Marine
This insurance protects equipment, materials, and products transported on land, or while temporarily stored in a warehouse.
Example: Should a home renovator's tools be stolen from their truck, an inland marine policy reimburses the equipment or losses.
Cyber Risk
Cybersecurity attacks are an evolving threat for every business. Cyber risk policies recover losses from a data breach, litigation, or interrupted business operations, and notify affected parties of the attack.
Example: If an electrician's online customer database is hacked, encrypted, and held for ransom, the insurer notifies customers about the breach, covers lost productivity costs, and replaces damaged data.
Builder's Risk
Also known as course of construction insurance, this protects buildings under construction in the event of a fire, explosion, theft, or similar disastrous event.
Example: In the event a tropical hurricane damages a building's new windows, builder's insurance pays the cost of damages and potential window replacement.
Workers' Compensation
This policy reimburses lost wages or medical expenses due to illness or injury.
Example: If a security contractor is electrocuted during a routine inspection, workers' compensation recoups their recovery costs and medical treatments.
Professional Liability
Also referred to as errors and omissions insurance, these policies pay for claims or lawsuits from negligence, mistakes, or unsatisfactory work.
Example: If a contractor promises an end product and fails to deliver it, professional liability insurance pays for resulting negligence claims or litigation.
Commercial Auto
Commercial auto insurance supplements costs of an auto accident, such as damages, medical expenses, and lawsuits.
Example: If a plumber backs their truck into a business, a commercial auto policy (and general liability policy) recoups damages to the car and business, and any litigation.
How Much Does General Contractor Insurance Cost?
To protect yourself against myriad incidents that can occur on the job, general contractor insurance is a must.
However, each packaged policy is uniquely based on your business size and local requirements, making it challenging to estimate a standardized insurance cost.
As a starting point, general liability insurance usually averages around $142 per month for general contractors.
Aside from compliance requirements, these policies are often a preliminary step to any business relationship.
Most clients will ask you to provide an active certificate of insurance (COI) before signing a contract, and will only do business with parties that do.
This means to continue building safe, compliant business connections, securing the right combination of general contractor policy coverage needs to be a top priority.
How Can I Get a Certificate of Insurance (COI)?
Acquiring a COI is as easy as contacting your insurance provider. They should give you a copy of your document, reflecting all the pertinent details of your policy, for free.
That said, if a prospective business partner is reluctant to provide a copy of theirs, they could be uninsured, or there may be some other underlying issues.
It may take a few days or weeks to receive your COI depending on how quickly the broker completes your paperwork.
Once you receive it, verify it lists all the coverages and endorsements your contract requires. If it meets them, you're ready to get back in business.
bcs: Your Certificate of Insurance Tracking Solution
Tracking complex insurance policies for each general contractor in your business can be a lot of work.
bcs simplifies every facet of this process with expert review and automation technology.
Our seamless, all-in-one platform enables you to easily bid for jobs, onboard through the bcs app, store your critical documents, and correct compliance issues in real time.
It's that easy!
No more wondering if your documents are compliant or spending hours searching for the right paperwork.
With bcs full-service certificate of insurance tracking, you can focus on building safer relationships, mitigating risks, and running your business.
bcs is a full- and self-service COI tracking solution for every aspect of your third-party management process—from hiring to project completion. To learn more about maintaining compliance, mitigating risks, and forming safer partnerships with automated COI tracking, contact us today or schedule a demo.
Subscribe Now
Learn from the pros about risk-mitigation, document tracking, and more, with expert articles from bcs.